Home / MS or BitDefender Virus/Malware "False Positive" Warning


GitHubRulesOK
Looks like its a false positive as I just downloaded from official page and get a valid signed copy (note pre-releases are unsigned so more likely to trigger a false positive or valid warning that they are unsigned)
check the sha-256 value using virustotal to check reputation of that download it should be
SHA-256
36d95dadf36ceae35f49ba0dff47ff628e3433b1150fb5a845f646be67f90198
VirusTotal show that for that file the following Bit defender AV analysis should be
BitDefender Undetected
BitDefenderTheta - Undetected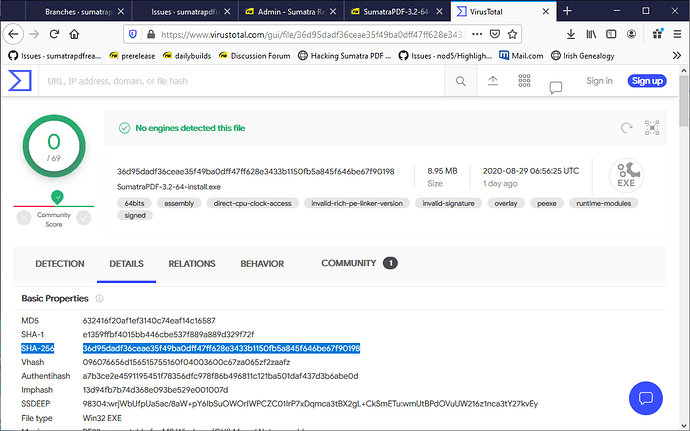 for more details see


GitHubRulesOK
looks like CRDF bad robots are the culprit for false reports
The domain name 'kjkpubsf.sfo2.digitaloceanspaces.com' is well known to violate our detection criteria.

Internal ID: 14423629
Detection category: Malicious:URL
Date and hour: about 3 months ago
Advert domain: No

Detection history

Added to the database by "Robot Explorer" - about 3 months ago

Threats found on the website

Nothing to display yet.
So all they have to do is say they dont like the way a site is run, wonder why they have not blacklisted google or microsoft ?

voICEwork
Original title: Virus Warning for Prerel Version
Microsoft Defender SmartScreen prevented an unrecognized app from starting. Running this app might put your PC at risk.
| App: | SumatraPDF-prerel-13112-64-install(3).exe |
| --- | --- |
| Publisher: | Unknown publisher |
Also from Symantec

GitHubRulesOK
Unfortunately it's to be expected, the major league players insist that app builders need to digitally sign their software, so pre-release which could be uploaded several times in one day is unsigned. The more recent Release Builds such as 3.2 are signed.